Don't let a pile of dirty clothes intimidate you on your weekend, and spoil the fun. Wash them in less time without putting a strain on your back with the Bosch 7.5 kg fully automatic front load washing machine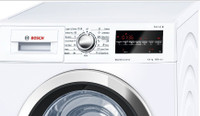 Time Delay Function
Leaving your clothes soaked in detergent for too long can leach their color and weaken the fabric. Often, we have to leave them half washed due to our hectic schedule. The Time Delay function of this washing machine lets you delay the final wash cycle for up to 24 hours, so you can finish washing them later.
Super 15'/30′ Programme
Do you want to finish your laundry fast, so you can spend more time with your family? This washing machine can help you do that. It allows you to wash up to 2 Kgs of lightly soiled laundry in a matter of 15 to 30 minutes.
VarioSoft Drum
The innovative VarioSoft Drum technology of this washing machine, which consists of asymmetric paddles and a raindrops drum surface design, is tough on dirt but gentle on your clothes.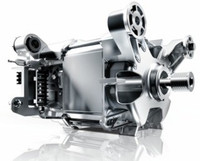 EcoSilenceDrive
Catch a wink or read a chapter of the latest bestseller novel while your laundry is being done. The noiseless and energy-efficient operation of this washing machine can help you do all that and more.
ActiveWater Plus
This washing machine brings together a powerful drum system with 256 load sensing levels and optimised water flow to give you excellent results with less water and power consumption. It gives you the freedom to adjust the water level according to the type of fabric and wash load.
AllergyPlus + ECARF
When detergent particles stay behind on your clothes, they can cause skin irritation and allergy. Now remove residual detergent from your clothes effectively with the ECARF (European Centre for Allergy Research Foundation) certified programme and the AllegyPlus feature of this washing machine.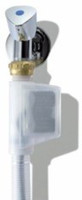 AquaStop
Hard water and salt deposits on the drum and pipes can reduce the life of your machine. The AquaStop system of this appliance, consisting of a double-walled feed hose, a safety valve and a floor tank with a float switch, offers it 100% protection against water damage, thereby increasing its life.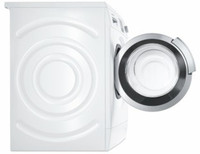 AntiVibration Design
The AntiVibration Design of this washing machine ensures less vibration and no shaking during spin cycles.