Samsung Smart TV
Quantum Dot Color – Vibrant Colours
One Remote Control Feature
Billion shades of color brought to life
* Actual Product May Differ From Image Shown. Please see our product gallery.
Q Colour
Five words—more than a billion colours. Watch your favourite shows and movies with our most realistic, accurate, and vibrant colours yet. See all the intricate colour details of every scene, just as if you're part of the action.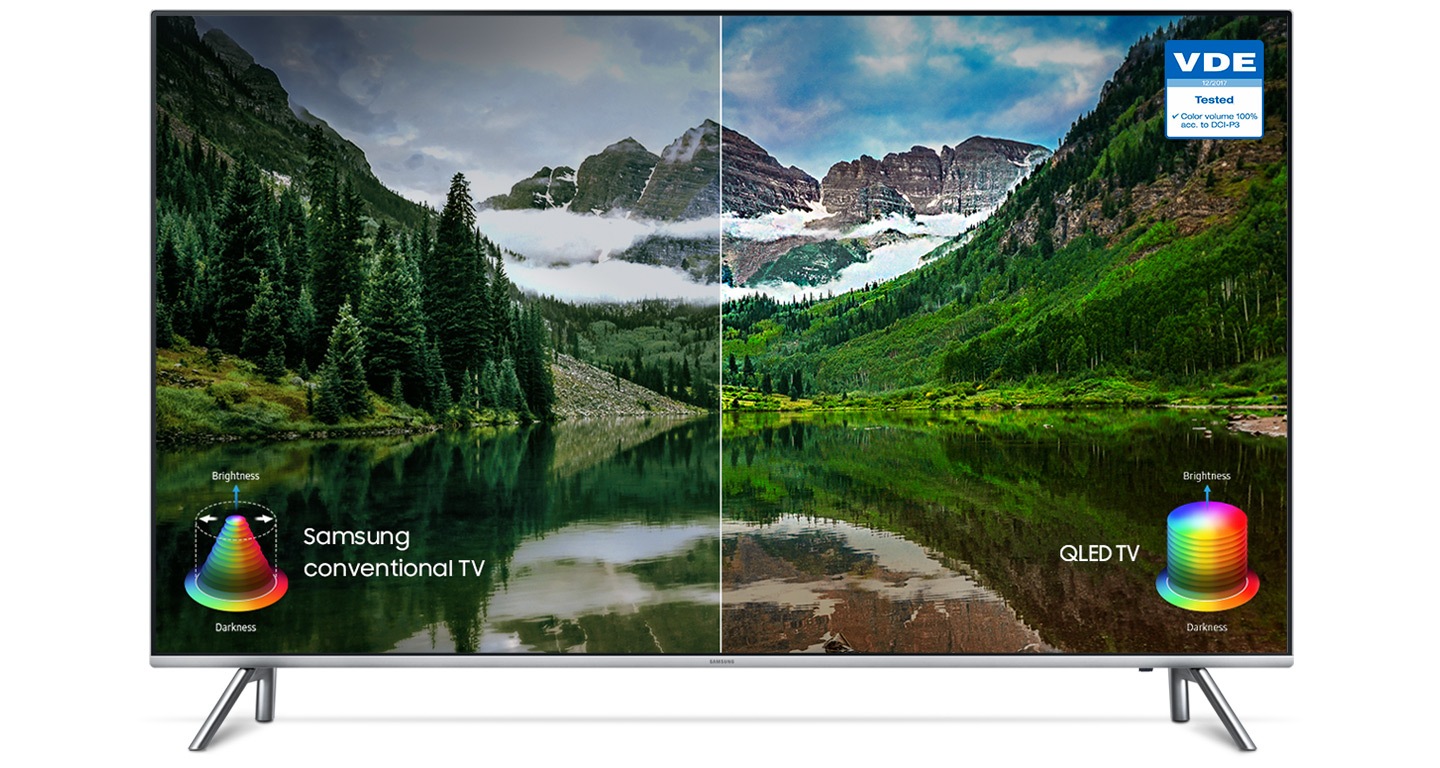 * QLED TVs have received verification from world-class testing and certification association, Verband Deutscher Elektrotechniker (VDE), for its ability to produce 100 percent color volume.
Colour Volume
Q6F gives you 100% colour volume, which means it maximizes the range of accurate, rich and detailed colours you can see on TV.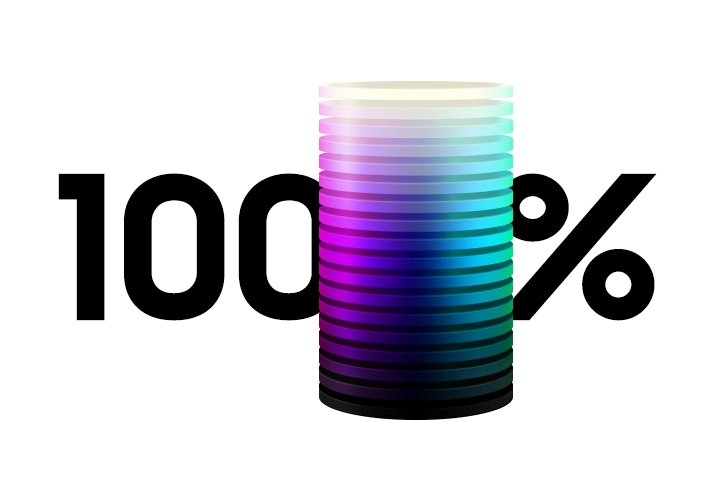 Q Contrast
Enjoy your entertainment undisturbed. Find all the intricate details hidden in the darkest scenes. With Q Contrast, you'll see all the tiny aspects of every scene, even with all the lighting in your room.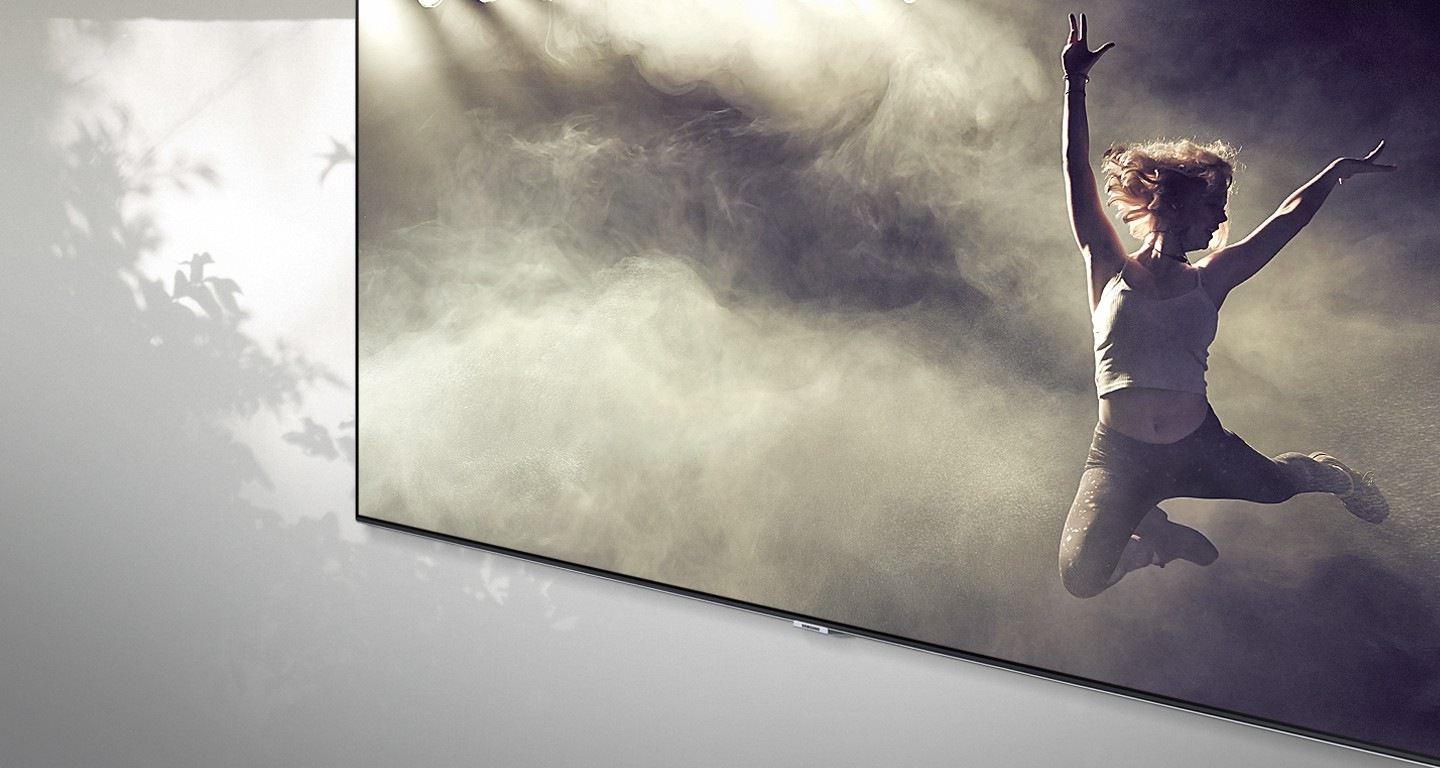 Q HDR Elite (HDR 10+)
The wider range of brightness and contrasts of Q HDR Elite, powered by HDR10+, lets you see through the director's eyes. See details you couldn't see before in the brightest and darkest scenes.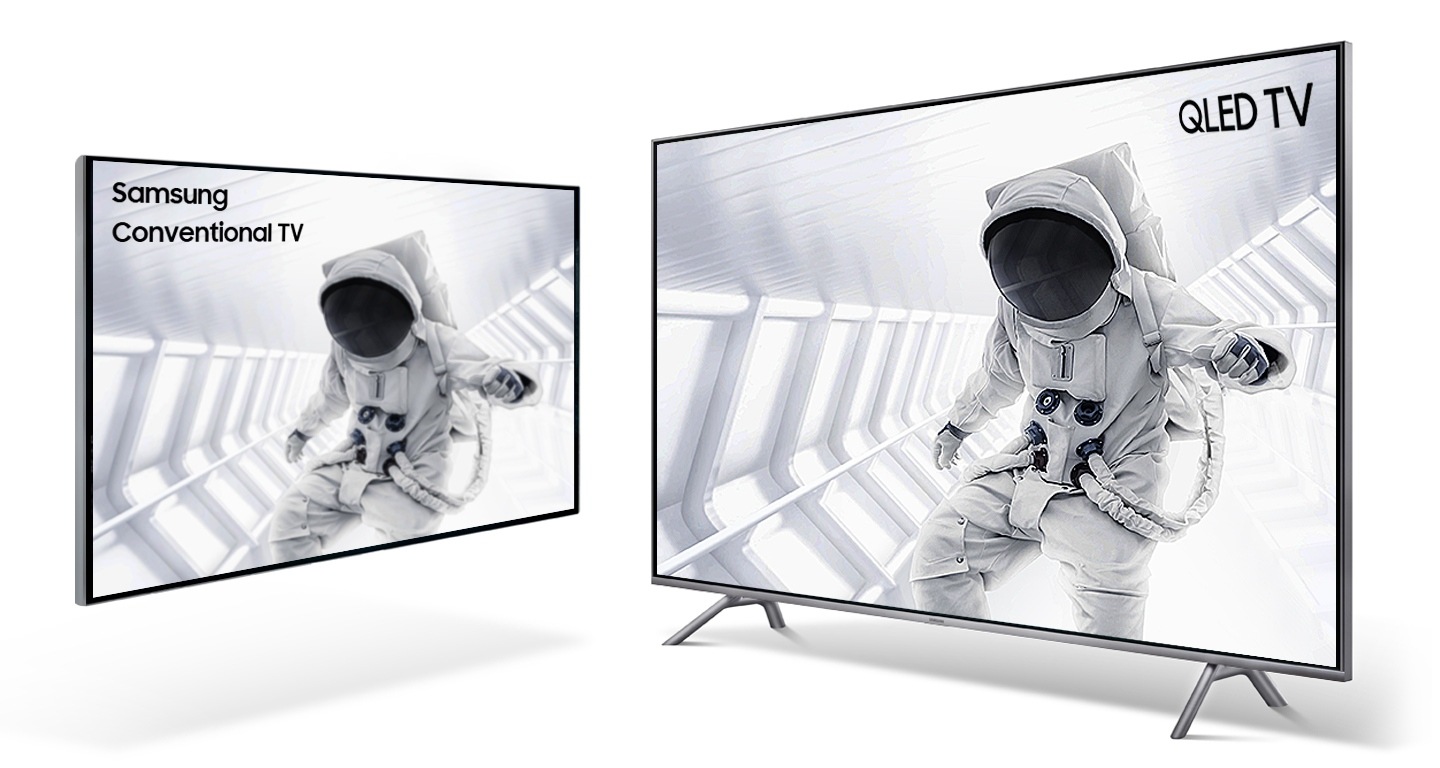 *The certification may vary by model. ** The peak brightness may vary depending on the model and size of the TV.
Long Life Span
Made to last, QLED TV's Quantum dots are inorganic. This means the display doesn't burn out with time, and the amazing colours and details you see today will stay the same time even over time.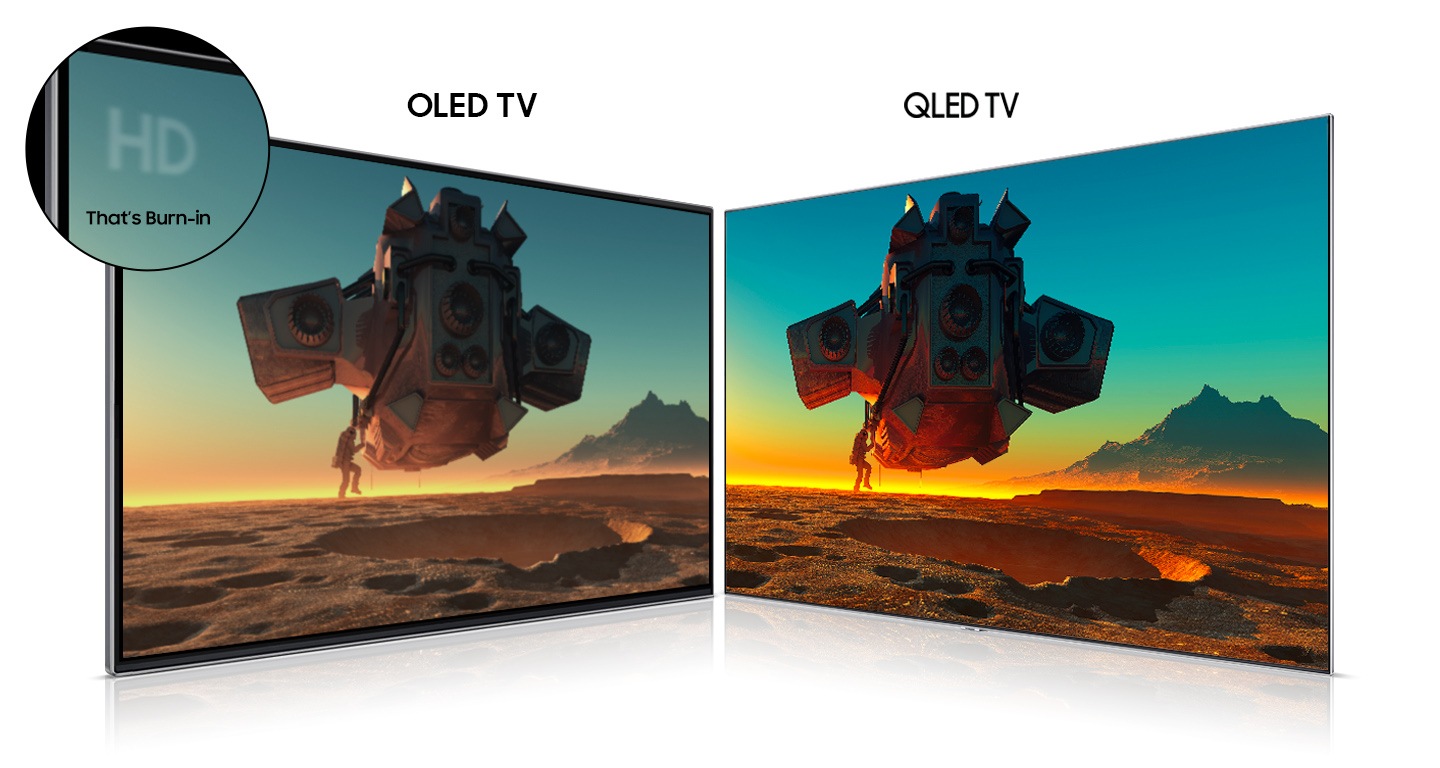 * What is Screen Burn?Screen burn is a permanent defect in areas of a TV display that can be caused by the effects of viewing the same image or scene for long periods of time.** The images are for illustrative purposes only and are intended to provide better understanding.
Q Engine
Made to last, QLED TV's Quantum dots are inorganic. This means the display doesn't burn out with time, and the amazing colours and details you see today will stay the same time even over time.
*The images are for illustrative purposes only and are intended to provide better understanding.
See the picture, not the TV
See for yourself how Q6F can elevate your viewing experience with its refined elegance and style.
Clean Cable Solution
Q6F's clean back design keeps the TV wires hidden from view. It only takes three simple steps. Step 1. Plug in your cables. Step 2. Push your cables into the embedded cable lines on the back.Step 3. Neatly organize your cables through the TV stand.
No more Black screen
Break away from the norm of black screens. Elevate your home interior with the brand new Ambient Mode.
Ambient Mode
Décor
Give your living room a splash of colour. Apply an interactive background that harmonizes perfectly with your environment with Ambient Mode.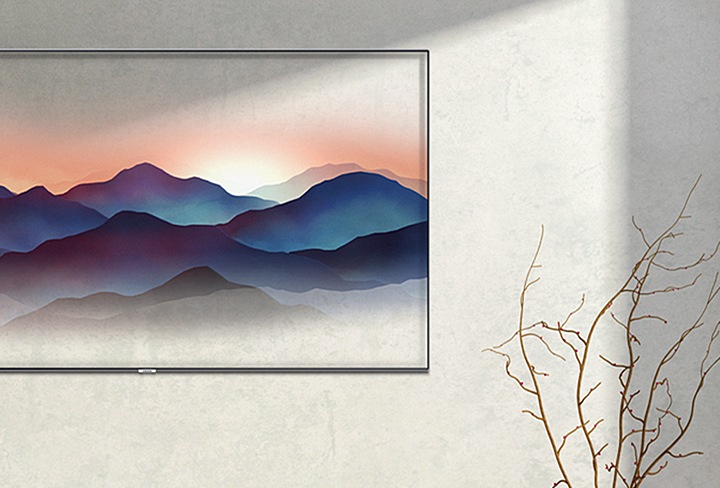 Info
Get the daily information such as the weather, outdoor temperature, and major headlines with an interactive background giving QLED a translucent effect.
Photo
Relive all your memories. Turn your living room into a personal gallery by displaying photos from your mobile device.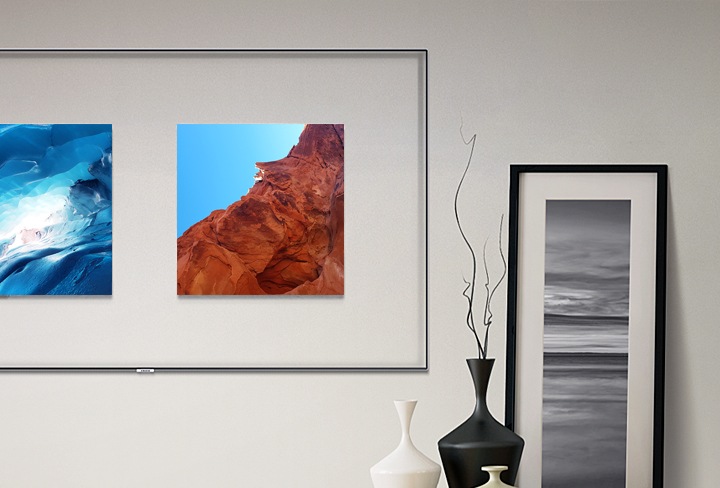 Music
Enjoy background music in every day life. Simply play the music with voice command or from your smart phone connected via Bluetooth.
* Service specifications vary by region and model.** The Ambient Mode background setting feature may vary depending on the environment where the TV is installed including, but not limited to, wall designs, patterns, and/or colors.*** Images are simulated and for illustration purposes only. The appearance and design specifications which is not affecting to product performance are subject to change without notice**** All devices must be on the same network and Internet connection is required. ***** Agreement of the Services TV Terms and Conditions and Privacy Policy is required upon your first use.
Bezel-less Design
Enjoy your content on a wider feeling screen. The clean and minimal bezel-less design of the Q6F focuses your eyes on what you love most.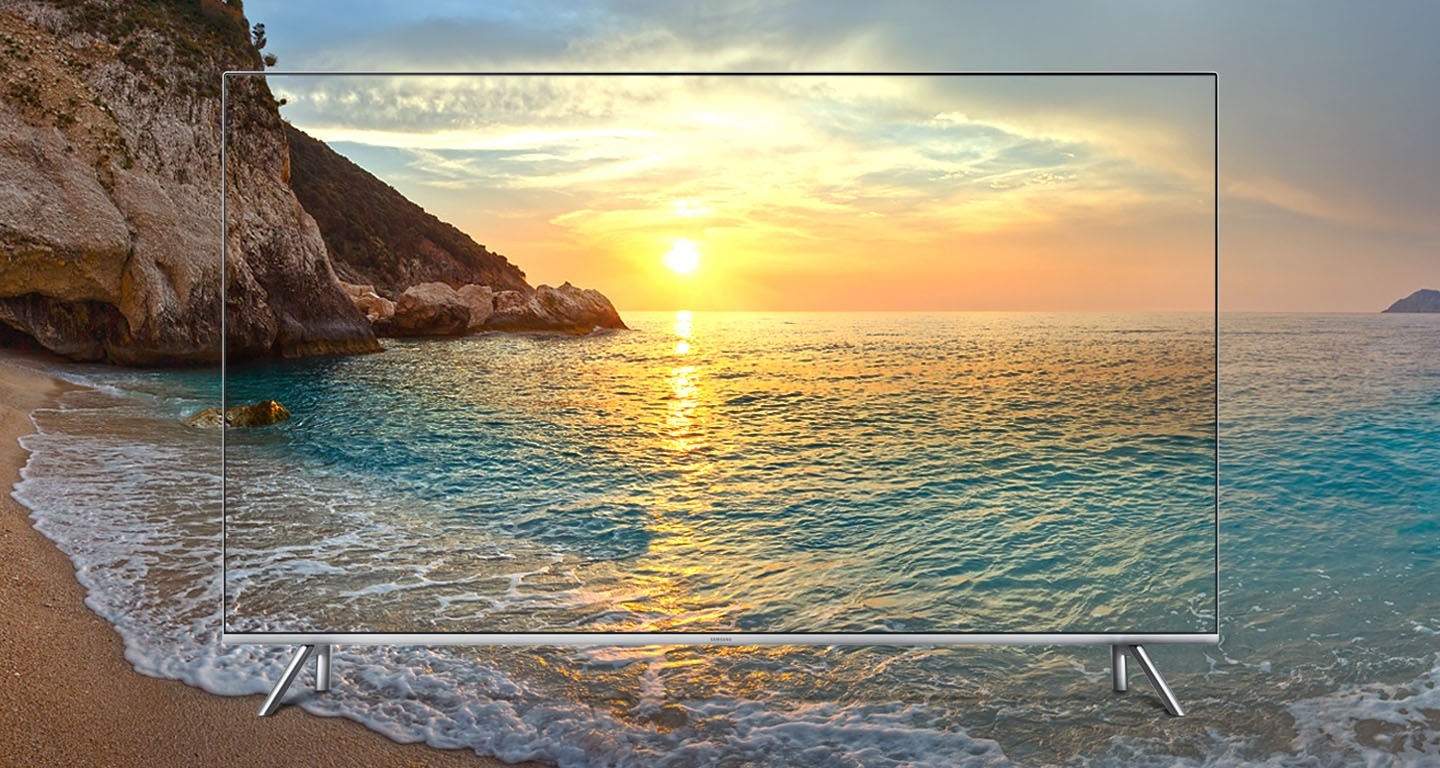 An intelligent way to enjoy the smart TV
Get to your entertainment the faster, easier, and intelligent way. One remote to control all, and a simple hub to control all devices. Search less, and watch more. Enjoying TV has never been this easy.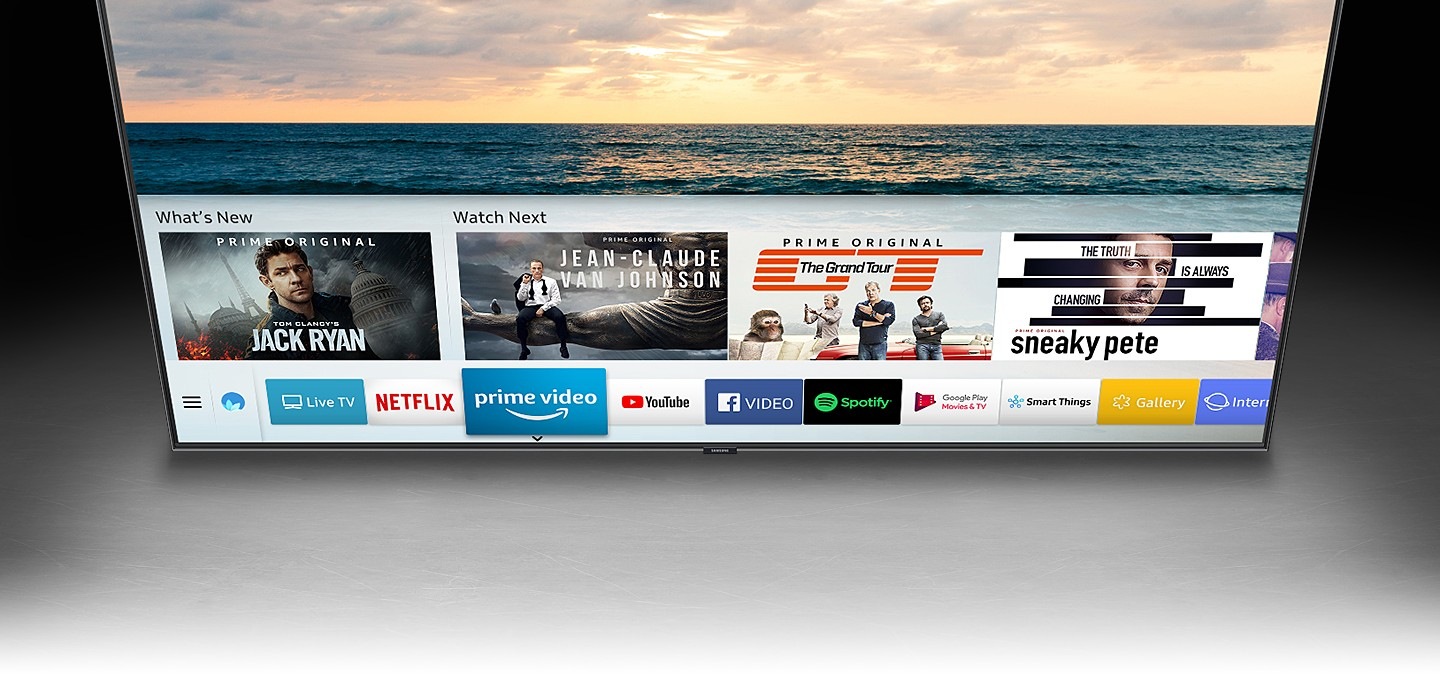 * Images are simulated and for illustration purposes only. The appearance and design specifications which is not affecting to product performance are subject to change without notice** Smart service and GUI(Graphic User Interface) may vary by model and region.*** The availability of third party services and content is subject to change without notice.**** All devices must be on the same network and Internet connection is required. ***** Netflix streaming membership required.
One Remote Control
Easily control connected devices and content with just One Remote Control. It also has an auto detection feature, which automatically connects and labels connected devices. Easy to find, easy to use. Just one remote control.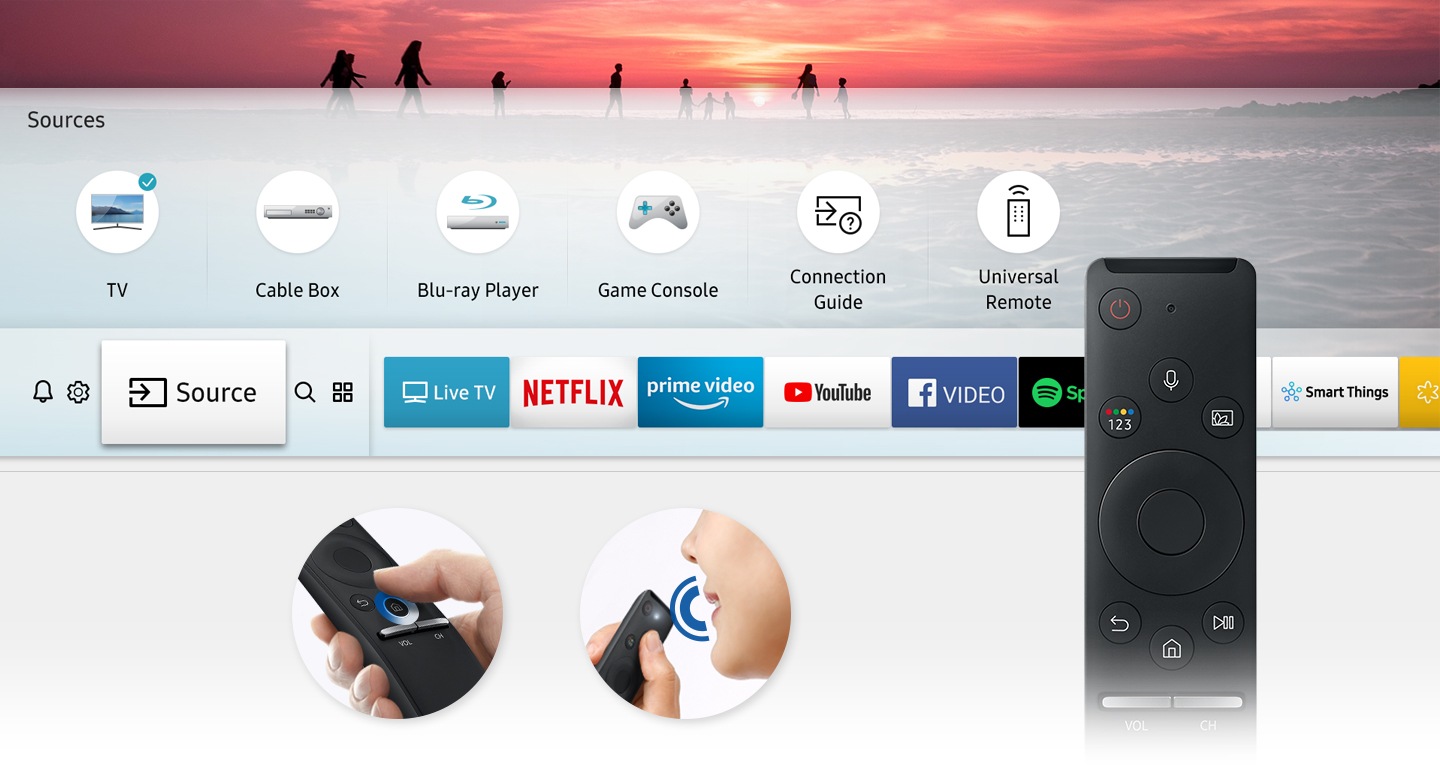 * Actual product and remote control may differ from image shown.
Smart Hub
See everything in one place. One Depth gathers a variety of content for you on one screen. Get easy access to different content providers and check out the thumbnail previews before diving in.
* You can start using the Smart TV services after you consent to the Smart TV Terms and Conditions. Pursuant to Samsung's Privacy Policy, Samsung may process your information when you use the Smart TV.
SmartThings
SmartThings turns your TV into a hub for your smart home devices, from fridge to mobile. It gives you seamless interactions and lets you control and monitor your smart home the intelligent way.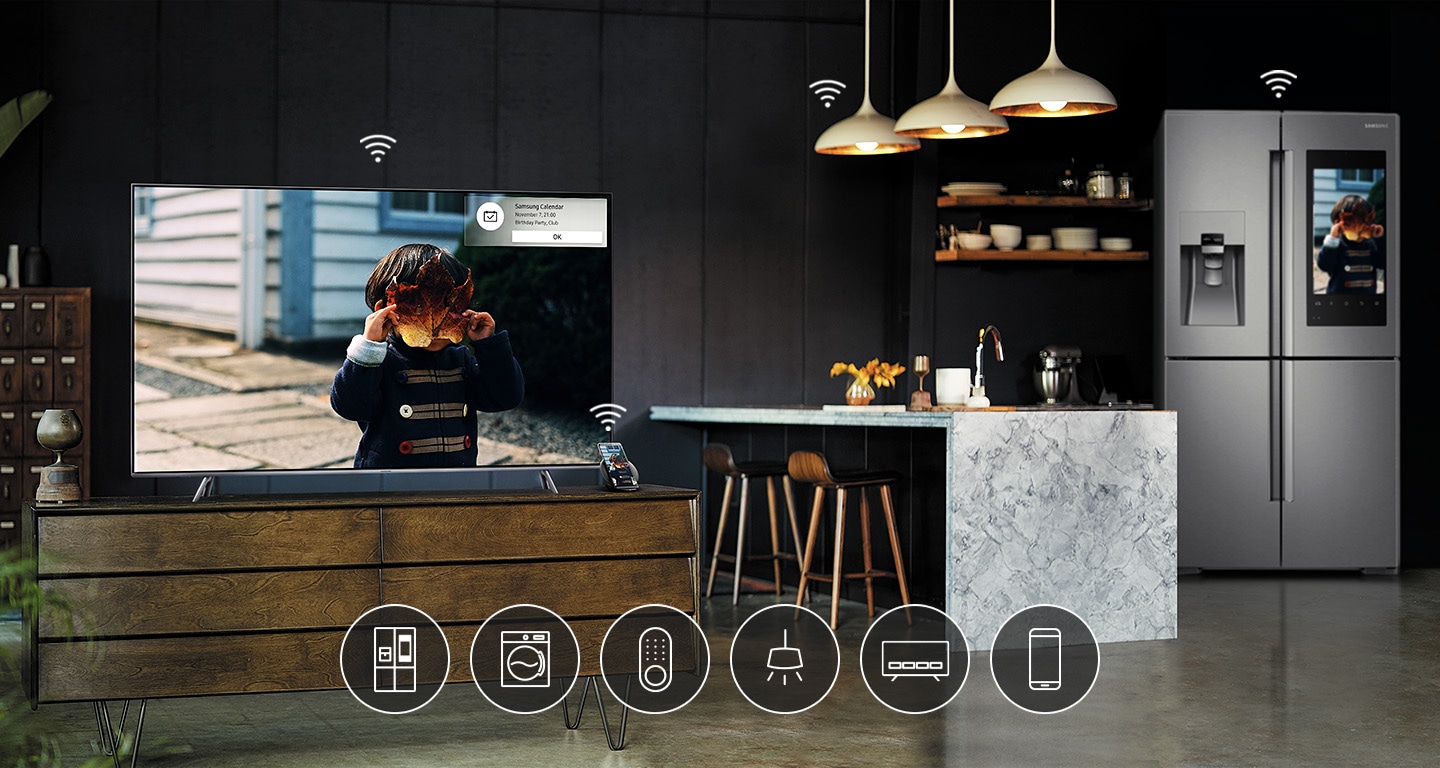 * SmartThings compatible devices may vary by region.* This function may differ by mobile and operating system. * Must download and install the SmartThings app.
Mobile Set-up
Step 1
Your mobile and TV will connect automatically, taking you to the set-up step.
Step 2
If your mobile is connected to Wi-Fi, the network information will be shared with your TV.
Step 3
If your mobile is linked to a Samsung Account, the account information will automatically be shared with your TV.
Step 4
Select the apps you want to enjoy and add them to the Smart Hub. That's it! Now, just kick back and enjoy your Smart TV.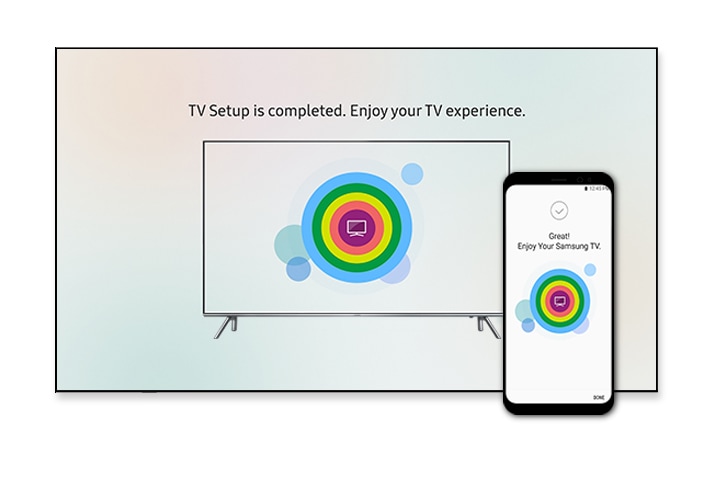 * Setup process requires a Samsung Account. TV must have an internet connection for mobile set-up.** The set-up process can also be done by remote control.*** Auto recognition between mobile phone and TV may vary depending on the mobile device. For mobile devices that do not support auto recognition, open the SmartThings app on your mobile to begin set-up.
Content Sync & Share
Take full advantage of the Samsung Cloud. Seamlessly connect your Samsung smart devices to sync photos. Now you can share your mobile pictures and enjoy it on the TV or refrigerator screen.
* Compatible devieces only.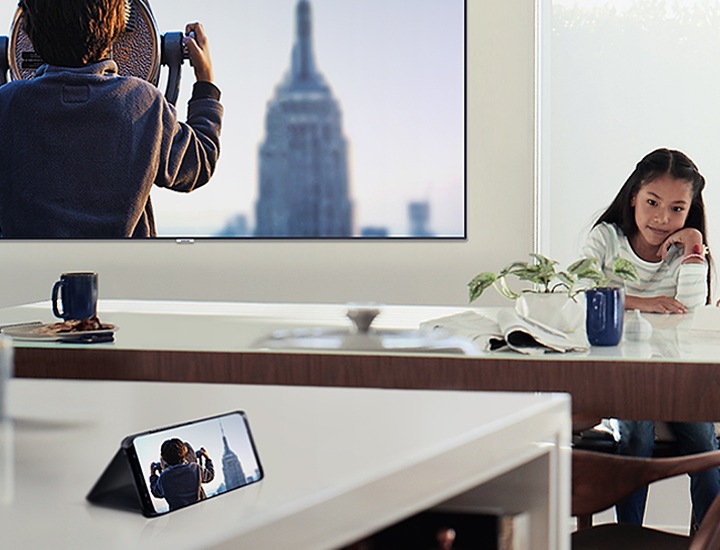 Notification
Know what's on the go without leaving your TV. Get pop-up messages on your TV, with status updates for home IoT devices, calendar reminders, and notifications when your favourite content is on. You can even get notifications on your mobile.
* Compatible devieces only.
One stop destination for all your daily information need
Now access everything with ease with the Smart Browser on Samsung Smart TV.
A new place to store and view your media
The Samsung Smart TV has Auto Data Backup, which stores pictures and videos in its USB drive.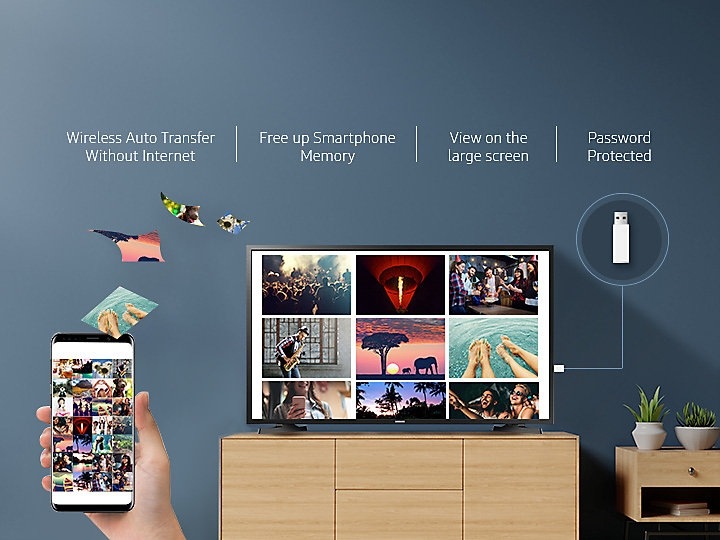 Q

Series

3,840 x 2,160

Resolution

4

HDMI

2

USB